This short, focused Intuition Initiation course is designed to activate you and set you in motion in relationship with your innate intuitive capacity. This course invites you into a state of intuitive aliveness, igniting a journey of direct knowing that connects you to that small still voice of your intuitive certainty, wisdom and clarity. This connection with your inner voices that reside within you increases the incidents of synchronicity, which enhance your creativity and your imagination, as well as establishing greater faith and trust in your own instincts.
I believe that everyone is intuitive, but not necessarily in the same way, I have been doing intuitive work for 25 years and I am just now beginning to understand how my intuition works. This has allowed me to reverse engineer my journey and create a profoundly effective journey for you.
I perceive that intuitive abilities have a close relationship to our purpose, which is connected to our skills, talents, and abilities. I am interested in supporting you to understand yourself, your skills and talents and your belief system. and I seem to be skilled in uncovering the beliefs that may be running you and interfering with your intuitive abilities, and show you how to resolve them.
Intuition is an innate gift of the soul and when it flows, it is the juice of life, bringing fluidity, joy and instant answers to profound and important questions. This course will support you in dissolving the obstacles of indecision and doubt and invites you to arrive at a deep and profound connection to your own intuitive ability that brings a strong sense of certainty, along with heightened clarity, wisdom and truth.
The more you practice and use your intuitive perceptions the more you will enhance all your perceptions, reclaiming lost abilities and acquiring new ones. as we enter into this next chapter of time it is more important now than ever that we have direct clear access to wisdom, truth and clarity.
Developing intuition is a way to expand your spiritual awareness and a way to get to know the true self. Knowing who you truly are is the most liberating force there is, as it allows us to shed everything that we are not.
All the patterns and projections of who we think we should be or who we have to be, to be liked and to be accepted, are released. This releasing, letting go of habitual ways of being lightens our load and allows us to be ourselves, this gives us a chance to share our gifts with the world and be who we are intended to be, allowing us to make our contribution and fulfill our purpose. This course ignites this journey for you to be your true self, liberating you from any lingering conditioning and wounds that reside around your intuitive capacity. Being present and responding to what is, is an essential intuitive skill, that you gain here along with some practical skillful means to enhance your ability to do this.
Spend as much time as necessary to master this skill before moving forward to rebalancing and aligning the chakras, as this is the foundation that is needed to choose the vibration and frequency that we want to occupy. You will be shown how to choose to occupy positive mental and emotional states which is important and necessary when manifesting and attracting synchronicity's, very often perceived as the intuitive communication from the Universe.
Here are the first four steps to expanding your intuitive capacity that you will acquire here:
1) Practice presence.(Participate fully with everything that is present, and move towards the open door)
2) Pursue positive thoughts and positive emotions.
3) Choose the vibration and the frequency that you want to occupy.
4) Be sure that what you are saying yes to is reflecting what you want now.
Gratitude and appreciation are the frequencies that expand your intuitive capacity, always remember that the Universe is simply a big Xerox machine, reflecting back to you what you are putting out regarding thoughts and feelings. This course supports you in expanding your awareness about the thoughts that reside in your subconscious mind/body and empowers you in transforming them into the thoughts of your choice.
Practice makes perfect, if you intend to read others start today, now, immediately, practice, practice, practice. There is no way around it. You have to get in the ring with the bull, so start sooner rather than later, even if you are terrified just start where you are, do what you can and get started straight away, work with everything that shows up. You will be supported in finding the courage to begin practicing and you will have have practice partners to play with who are in the same place as you. This provides the possibility of elevating any fear or resistance into an attitude of playfulness, curiosity and fun that inspires you to leap into action.
Intuition speaks in the language of body and it is important to heighten the sensitivity of the body language that your intuition speaks so that you can hear more and more of the subtleties of that communication. Noticing the very first moment a sensation or a communication arises allows you to be in right relationship with that energy, and that communication at the moment, so that you can respond accurately in the moment. These signals start as instinctual urges or resonances or vibrations, you will enhance you relationship with your energy body and become skilled in interpreting the communication that consistently arise from you energy body that is intimately connected to your soul.

I am excited for you to join us in this course on this sacred journey towards your greatest intuitive capacity, and would be honored to be your sacred guide.
Namaste.
Your Instructor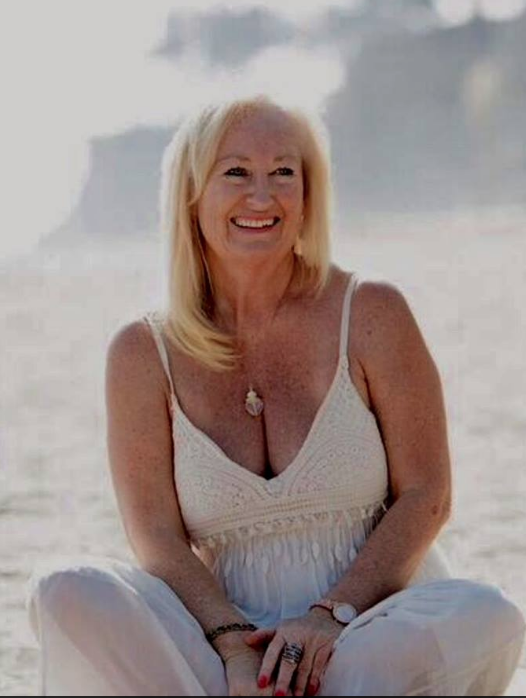 Lifeguide, Michelle Bradshaw
Spiritual teacher, Intuitive guide, Yoga Teacher, Energy wellness, inspiration and happiness expert.
Welcome to my school.
I am Michelle Kanti, a Lifeguide and spiritual teacher, who is excited to help you in your journey to intuitive aliveness. I have been fortunate to work as a Lifeguide for over 20 years, and have become an expert in providing Spiritual and Intuitive guidance. I am also an accomplished Yoga teacher, and specialize in energy and emotional healing that leads to the experience of peace, happiness and clarity.
My Path
After completing my degree in Psychological Services, I became frustrated with the limited choices available within the traditional path of Psychology. This led me to explore an alternative path of spiritual teachings. Hence I began my journey as a Spiritual teacher. During a period of over 20 years, I was fortunate to work with different people from many walks of life, and by trusting my own intuition and listening to their needs; I was able to gain deep insight and knowledge about the human condition. Over the years, as I helped my clients restore their inner self, they in turn taught me about what works and this alternative path to healing unfolded.
Transformation tools
A common request from my clients was to be able to access tools that would help them in their transformation and intuitive process. This gave birth to a set of tools designed to assist people in healing themselves. These tools are called the Lifeguides Transformation Program, which provides the spiritual technology capable of creating profound and permanent changes in one's life. These tools are available to be learned in all my courses.
Course Curriculum
Meditations and yoga practices inside your intuition toolkit
Available in days
days after you enroll
Module one Introduction to intuition initiation
Available in days
days after you enroll
Intuition Quiz
Available in days
days after you enroll
Frequently Asked Questions
When does the course start and finish?
The course starts now and never ends! It is a completely self-paced online course - you decide when you start and when you finish.
How long do I have access to the course?
How does lifetime access sound? After enrolling, you have unlimited access to this course for as long as you like - across any and all devices you own.
What if I am unhappy with the course?
We would never want you to be unhappy! If you are unsatisfied with your purchase, contact us in the first 30 days and we will give you a full refund.